Time 2 Leave
A year and a bit ago I moved into a new home in South London with my fiancé; the place was served by a train station offering 3 different routes into London. Each route in took roughly the same amount of time so the train we got really depended on which one was next. The idea then came about to build a train departure board listing the 3 journeys on one screen available at the door for whenever we were leaving the house.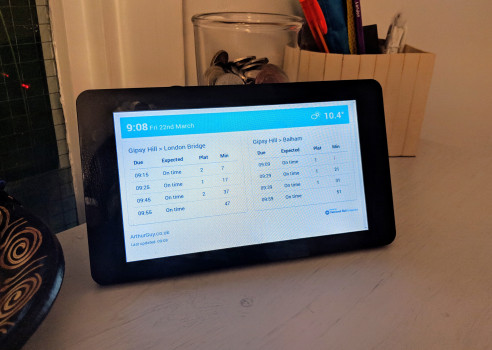 I was able to put together this prototype quite quickly using the National Rail Enquiries data feed which is publically available. This was displayed on a simple dashboard screen that ran on an old raspberry pi & touch screen which then ran chromium in kiosk mode. Whenever we left the house all we had to to was touch the screen to wake it up and we could see what route we needed to take.
This simple system worked brilliantly but during that time we had a few friends ask for their own departure boards so we started talking about turning it into a thing other people could use. At first I would add in routes manually but eventually we spent a few evenings turning it into a self service tool called Time 2 Leave.
So if you find yourself in the same situation as us or just hate the national rail enquiries app and its erratically loading adds give it a try!